Welcome to Percliff Plant & Haulage Limited.
Percliff Plant & Haulage Limited has been established for 6 years and with over 30 years industry experience. We are based in Blackburn just off the M65 Junction 6. We provide a range of haulage, waste management, recycling solutions, demolition and an extensive selection of aggregates for sale. We have a reliable prompt service that has built its reputation from serving local authorities, private building contractors, development companies and large utility companies.
We have a fully licensed transfer station and private weighbridge, all our waste is audited and complies with the WRAP guidelines. All our staff are experienced and trained thoroughly to provide the best service in the Lancashire region.
Our company is well established in the area and noted for giving a competitive customer-focused service. This is provided to the highest recognised standard through licensed facilities and accreditation.
Bulk Supply of Aggregates
• Building Sand
• Cable Sand
• Top Soil Grade 1
• As Dug Soil
• Crushed Tarmac
• 6-10mm Grit Pipe Bedding
• 10-20mm Grit Pipe Bedding
• 40mm Down Grit Stone
• 40mm MOT Stone
• 40mm MOT Recycled White Limestone
• 40mm Lime Stone Scalping's
• Rock Salt
Haulage
From hauling machinery to hardcore, aggregates and muck, we have a vehicle to meet your needs.  All our wagons are fitted with GPS tracking systems to ensure that all vehicles are working to their maximum level of efficiency and safely.
At Percliff we have a fleet of trucks, ranging from 3.5 ton to 50 tonnes and include:
• Tipper Wagons
• Grab Wagons
• Low Loader Trailers
• Ro Ro
• Flat Bed
Demolition
Percliff have over 30 year's experience in the demolition of houses, flats to industrial units and site clearance.
We can provide specialised equipment and skilled experienced staff to get the job done.  All projects will be visited for inspection, then a method and risk assessment of the works is carried out, so all works are done in a safe and controlled manner.
We try minimising the impact of demolition by recycling as much demolition material as possible, such as timber and rubble.  Any material which can't be recycled will be taken for disposal to a licenced waste facility. Every project will be overseen by our experienced foreman and all operatives will be trained in NPORS qualification in the use of Excavator, Crushers and Telehandlers. All wagon operatives will hold a current up to date CPC and full clean Driving Licence and NPORS Grab Tickets.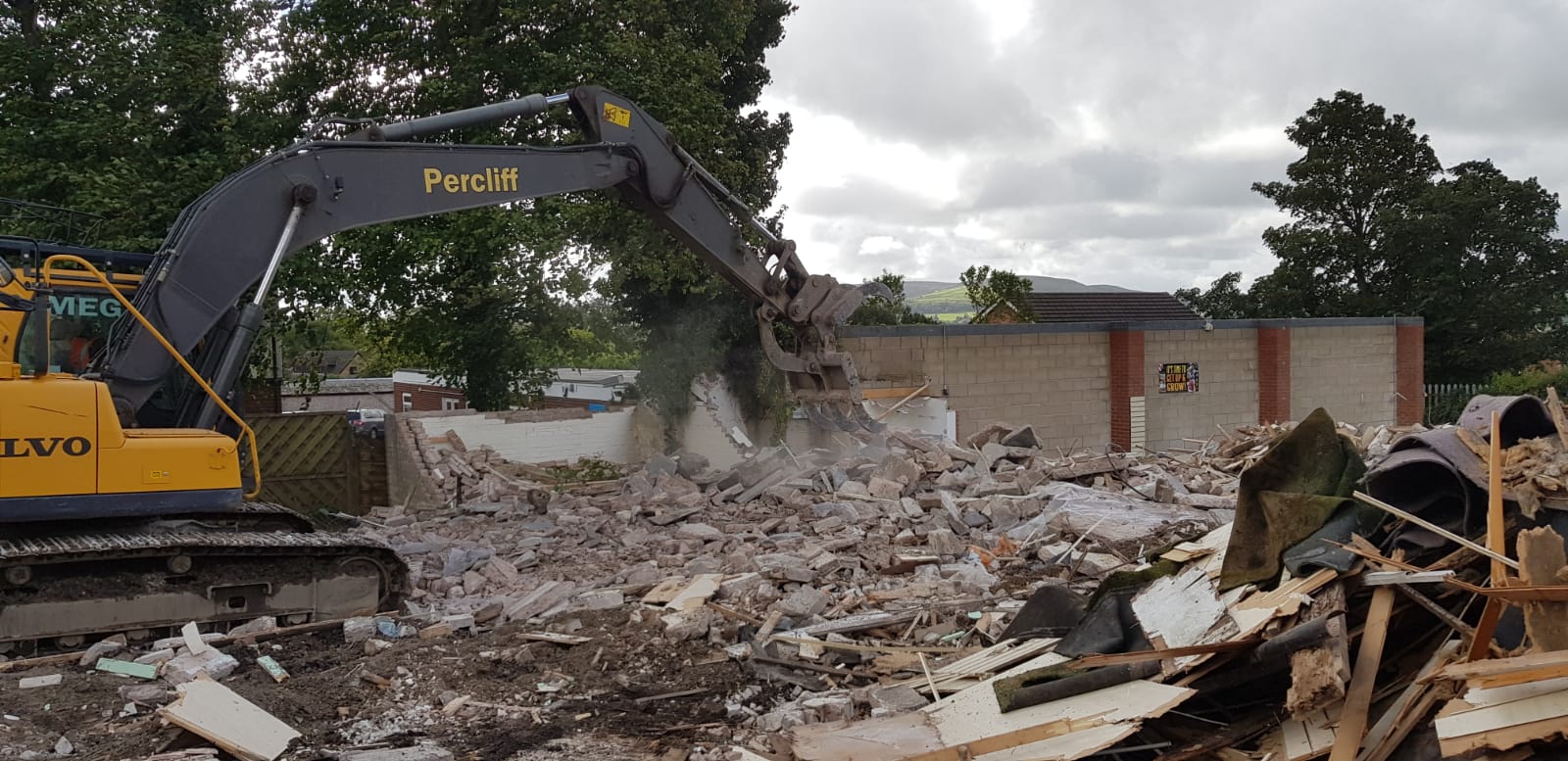 Crushing
Percliff have been recognized as one of the leaders in the portable crushing industry. Setting up portable crushing plants at our customers' sites throughout the Lancashire area, we have crushed millions of tons of rock, concrete, and asphalt over the years.
Our main focus is working with companies that are looking for a temporary turnkey crushing service. We bring the aggregate plant right to your site!
Percliff are constantly adding and updating our equipment to the latest and greatest, in order to provide our customers with the best possible service.
Our staff coordinates a game plan with you to provide the materials that you need to fit your specific application. Percliff has gained great knowledge though the years of the many challenges a customer may face and is able to offer as part of our service this value added engineering experience to each individual project.
[woo-product-slider id="01″ sale_text="false" nav="true" color="#0085ba"]